Facebook Adds a Send Button to their Share Options
Facebook announced a new companion to its quickly growing Like Button -  the Send Button.   Facebook's new Send Button creates a more private sharing option for website visitors.  They see something online that they "like" and if you have the Send Button implemented, they can easily share that information with their Facebook friends, as in the example image below: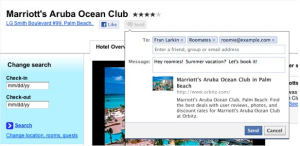 Over 50 million groups have formed on Facebook since the feature debuted on social network six months ago, and now the site has made it easier to share content using this new send button.  The feature lets you limit individual shares to other members of your group — improving upon the like plugin, which when clicked, posts items to your news feed for all friends to access.
The new send button became available on over 50 websites April 27th, and more are coming soon. This plugin has the potential to push the number of groups on Facebook well beyond its current number, which currently amounts to about one group for every 13 users on the site.  Facebook  also changed the Questions section for groups.
These changes are great for Offline businesses that want to use Facebook Groups for customer support but limit who can see what.  Just one more reason you need to use Facebook as a business strategy.
Did you know that there are more than 50 million groups on Facebook.?  Hubspot reports the following on the number of websites with Like button integration:
1. 10,000 websites integrate with Facebook each day
2. More than 2.5 million websites have integrated with Facebook (including more than 80 of comScore's U.S. Top 100 websites and over half of comScore's Global Top 100 websites)
3. Over half of the 25 fastest growing comScore U.S. retail sites use Facebook
4. Media sites that adopt the Like button average a greater than 300% increase in referral traffic from Facebook
5. Every month, more than 250 million people engage with Facebook on external websites.
Need help with your Facebook Page – Take a look as some examples of our work at our companion site:  Facebook Fan Page Shop