Case Study: Garret Kramer, Author and self-published (now Simon and Schuster) book, Stillpower
Garret Kramer, a first time author and self published author of Stillpower, was releasing his new book with very few Followers (608) and Fans (88 ).
If you click on the link to his Page, you'll see that his Fan Count is up, his photos at the top of the page filled out, and a Landing Page has been put into place: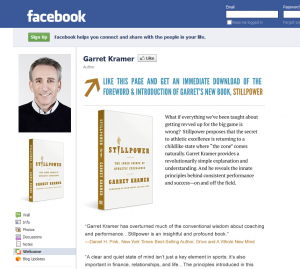 After only one month, he was so happy with the results we achieved for him which increased his visibility significantly that he has continued with our services promoting both his Twitter and Fan Page along with search engine marketing for his websites.
More Fans and Followers = More Prospects and Sales
Garret's goal when we first started working together was to gain exposure in business markets for speaking engagements and to be picked up by a major publisher. Six months later, Garret was booking speaking gigs and was picked up by Beyond Words and re-released June of 2012.
Take a look at where his Fan Count is today: Garret Kramer on Facebook
Take a look at where his Follower Count is today: Garret Kramer on Twitter
July 1, 2011 was a Banner Day (Bestselling Author Day) when: Garret's book, Stillpower, hit #1 in it's Category.
Gotta love that social media power…

Contact us for a free Consultation where we can determine what marketing plan is most effective for your goals.