Testimonial:
Having Susan Gilbert spearhead my on-line marketing efforts has been an eye opener for me and my company. Not only have I learned the value and importance of a well-thought-out on-line strategy, but my on-line presence has increased in droves. Susan's ability to gain followers and spread the word has been invaluable in the promotion of my new book and the philosophy behind it. I recommend Susan, and her team, to anyone who is passionate about what they do and wants to increase the visibility of their message.  Thank you, Susan, for your expertise, care, and persistence.

Garret Kramer, founder of Inner Sports and author of Stillpower: The Inner Source of Athletic Excellence.
Case Study:
Garret Kramer, a first time author and self published author of Stillpower, was releasing his new book with very few Followers (608) and Fans (88 ).
If you click on the link to his Page, you'll see  that his Fan Count is up, his photos at the top of the page filled out, and a Landing Page has been put into place: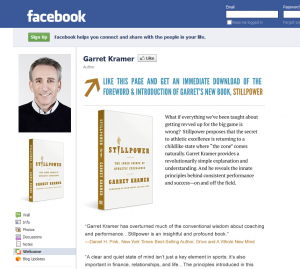 After only one month, he was so happy with the results we achieved for him which increased his visibilty significantly that he has continued with our services promoting both his Twitter and Fan Pages.
More Fans and Followers = More Prospects and Sales
His book sales are so great that Agents are contacting him to approach major publishers about picking up his book.
Take a look at where his Fan Count is today:  Garret Kramer on Facebook
Take a look at where his Follower Count is today:  Garret Kramer on Twitter
July 1, 2011 Update:  Garret's book, Stillpower, hit #1 in it's Category today!  Gotta love that social media power…

We have a whole division of our company which is focused on Social Media Marketing called Social Media Tribe Marketing
We can help you with:
Setting up or managing your Facebook Page, Twitter, Linkedin and much more.
Contact us for a free Consultation where we can determine what Social Media plan will grow YOUR business.
Want to learn more and stay current with Social Media?
Follow us on Twitter

Become a Fan on Facebook