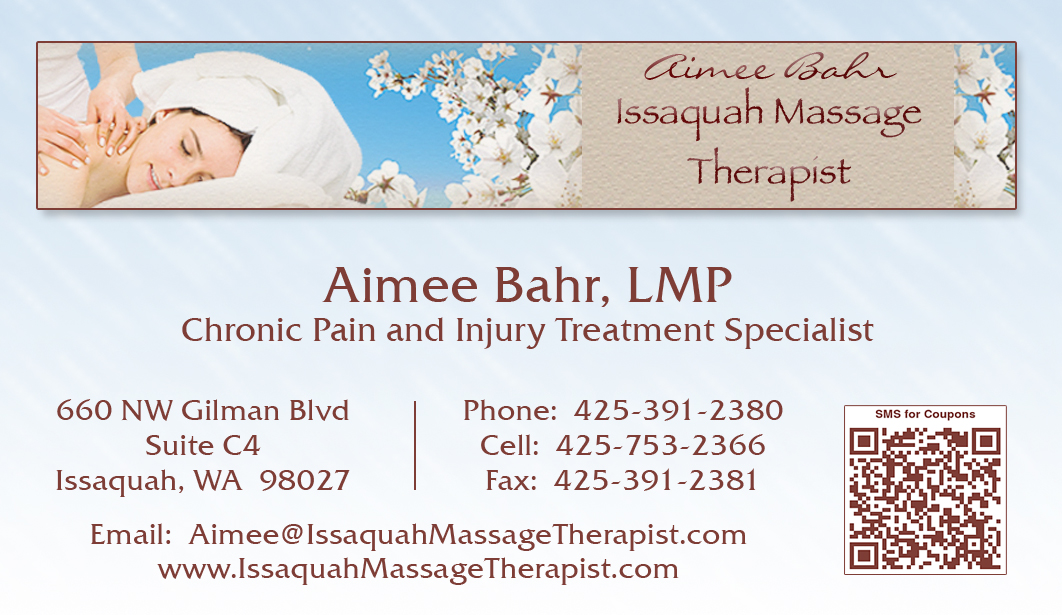 Case Study:
Aimee Bahr, a licensed massage therapist, had no website and no marketing plan to increase her business in Issaquah, WA.
At that time she had:
No Website
A hotmail email address
No Marketing Plan
We discussed several marketing plans, and she chose a mobile based plan.
We created a Mobile Website for her that was pleasing when read on a computer screen, yet easy to navigate on a mobile phone.
We then set up a Text Message campaign to build a Subscriber list who she could send special coupon messages to increase appointments.
Text:  Massages to 41242
The final icing on the cake was creating a business card that tied together all her branding and supported her marketing with a QR code.
This is what Aimee had to say about her experience with Online Promotion Success:
"When Susan contacted me, I was working at two separate locations and the second location barely paid for itself.  She analyzed where my business potential could be expanded, recommended building my Issaquah location, and created a marketing plan that included a mobile website and a text messaging campaign.  I am happy to say that after only a month, I am operating fully at the one location is Issaquah and am steadly building a business that is both more profitable and more easily manageable.  As a massage therapist who helps other people reduce their stress level, Susan did that for me and more!"

~Aimee Bahr, LMP  www.IssaquahMassageTherapist.com
Contact us to find out how we can make your business more cohesive, more recognizable and more profitable with one of our branding packages.