Websites that Work
Our work speaks for itself
We keep your specific goals in mind and create websites that work – for you, for your visitors, and for the search engines to achieve the best rankings.
 Local Business Websites
---
---
---
Here's what they had to say about their website:
"Susan Gilbert is the person to contact if you need a new website or  a revamped existing site.  Her team's creations are clean, user friendly and beautiful. Her fees are more than fair. She is more than willing to share her knowledge. She is prompt, dependable and returns messages quickly.  She is definitely a woman you want on your team-highly recommended."
---
---
Author and Publisher Websites
Penny Sansevieri, Founder and CEO of Author Marketing Experts, knew she was getting traffic to her website, but those visitors were not converting to subscribers and followers.
We created a custom WordPress theme with a scrolling header bar to display their client's books, and created a script for her welcoming video. We also wrote the copy for the website creating a clear message of both what her company provided and how they preferred to be contacted.
Here's what Penny had to say after her new website went live:
"Before Susan's company took control of our website and redesigned it we had, what I perceived to be, a good presence online. But the minute the new site launched the conversion and site visitors shot up so much, I thought the numbers were wrong. It's safe to say we quadrupled our site hits and new business, in fact in some cases we've seen a ten-fold increase. It was like trying to drink from a firehose trying to keep up with the flood of leads that started coming in. If you're going to work with Susan here is my recommendation: hire her, listen to her guidance and let her do her thing. You'll be glad you did!"
---
Terry Tegnazian, President of publishing house Aquila Polonica (U.S.) Ltd. needed a website for their new publishing company and release of their first book, The Mermaid and the Messerschmitt; along with the ability to grow and maintain the website for many more planned book releases.
Their Director, Stefan Mucha, desired the Joomla platform and we created an easily editable custom designed website using that content management system.
In addition to creating a custom theme that represented the branding of both their publishing company and their niche, we created multiple menu systems which direct visitors to both individual books but also individual content items per book.
---
Robert Yeager, a well known writer with a career that included articles written for major publications like the NYTimes, needed a website that focused on a new historical fiction book, due for release – while providing a way to showcase his long term writing career.
When he first contacted us a website had been started for him by a developer who could no longer continue the work.  We believed we could provide a better direction for him, the completed website is to the left.  If you would like to see what he would have been using, take a look here.
"Susan proved especially helpful with someone (me) establishing a first-ever web presence. Not only is she a top designer—I've been flooded with compliments on my "handsome" site—but she is also a patient explainer. Susan makes being an Internet partner not just a catchy phrase, but a precise description of who she is and what she does."  Robert C. Yeager,  writer, author, The Romanov Stone
RobertCYeager.com
---
---
---
---
---
---
---
---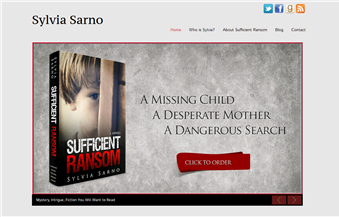 Sylvia Sarno is a new author whose first book Sufficient Ransom is being pitched to publishers with a second book nearly completion.  She understands that beginning her marketing now is important for both acquiring a publisher and selling books.
We created a responsive website that can be easily viewed on all mobile devices and notepads.  We also assisted her with a designer for her book cover.  The completed site reflects the book's genre and provides a platform for Sylvia to begin reviewing books and gaining readers to her blog.
Sylvia says:
"Thank you for all the team members who assisted in creating my site. I look it looks great and is very functional! Your knowledge and advice really helped me get a great product and took away much of the stress in getting the site up.  Thanks for being so patient with me!"
---
---
Additional Website Examples of our work can be viewed in the Gallery

---
Website Consultation Results
---